When I think about this whole issue, it occurs to me how "So the drama" it is. Especially to anyone who doesn't already know about the whole Lime Crime being lying-repackagers-who-threaten-bloggers-and-censor-customers thing. I let the issue lie for a while, because I got the impression from readers that they wanted to return to regular blogging schedule, and honestly, if I replied to every questionable thing Lime Crime did, I'd never be blogging about anything else, which would be pretty dull for me. Nevertheless, Lime Crime did win my Worst Brand of 2009 award for a reason. All right, several reasons.

I wanted to sum up the giant ball of drama in one, glittertasticsuperglitterysparkle post. Are you sitting comfortably? Then I'll begin.


***

A long time ago in a galaxy

far far away...
There was an online make-up company called Lime Crime: their slogan, make-up "so bright, it's illegal!" The brand image is covered in sparkletastic unicorns and glitter-rainbows and happiness and cupcakes, and magical fairies and whatnot. The company's head Xenia, who goes by the moniker Doe Deere (or "Queen of the Unicorns" as she cheerily signs off blog posts) claimed that she couldn't find any make-up, anywhere, that was bright enough for her, so she decided to make her own.
It all started in 2008 when NYC-based makeup artist, model, lifestyle blogger, and self-proclaimed "Unicorn Queen" Doe Deere realized she simply couldn't find makeup bright enough.

Lime Crime Makeup

fills the voids in the makeup universe where "super cute" and "super bright" are missing.

We focus on creating the most intensely pigmented, premier dare-to-wear cosmetics with unmatched color payoff and saturation to create looks as vivid, quirky, and unique as our customers. -

Lime Crime's "About" section.
Bluntly put, that's a load of bollocks. Firstly, the assertion that Lime Crime's make-up came about because Doe couldn't find anything bright enough for her. Evidently, she wasn't looking very hard.
Lime Criminal is their signature colour, here I swatched their "Magic" Dust in Lime Criminal, versus three considerably brighter greens from
Aromaleigh
and
Sleek
. In reality, "Lime Criminal" actually looks like more of a pale goldenish sage than anything resembling a lime. Doe's also obviously never heard of Ben Nye or Kryolan, who also make really bright, intense make-up. (ETA: Readers have pointed out that Doe's early make-up tutorials used Kryolan heavily. So... I guess she was just lying? Shock, horror.)
Second, the notion that it's unique, like their customers, and unmatched in... just about anything. It's pretty damn matchable. Back in my
original Lime Crime review
I discovered when my eyeshadows arrived that they looked identical to three shades by another make-up company,
Beauty From The Earth
.
BFTE
have since admitted that a lot of their eyeshadows were repackaged
(read: taken from a wholesaler and sold as is in smaller quantities as a unique product), and have now clearly marked all repackaged products they sell and discontinued the vast majority of them. Lime Crime, of course, have done no such thing.
After confirmation that the BFTE shades which matched my Lime Crime were repackaged (all except Lime Criminal/Envy which looks like a 50/50 blend), I then got the
TKB Trading
wholesale micas to swatch against my Lime Crime colours.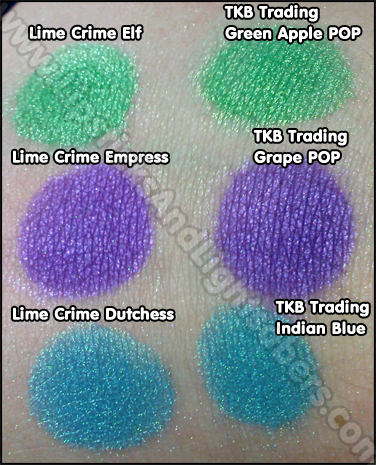 Sample of 'Empress' kindly sent in by a reader.
Note that they have the exact same ingredients:
"Magic" Dust
ingredients list.
As you can see on the TKB Trading bag in that shot, the ingredients are: Mica, Titanium Dioxide, Iron Oxide, Tin Oxide. These vary according to the mica, but all TKB Trading micas come with titanium dioxide, iron oxide or tin oxide already added. These are not a finished product, or an eyeshadow - they're an ingredient. As you'll see coming up, you need more than just the basic wholesale mica in order to create an eyeshadow with any blendability and longevity.
For an updated list of Lime Crime to TKB Trading mica matches check
this post
.
I Make All My Own Colours

(Wow, you invented your own spectrum of light?)
To help combat the rising number of accusations that they simply repackage wholesale mica and lie about it, rather than make their own products, Doe recorded this video of her "making" an eyeshadow. She doesn't wear a mask, or gloves, swatches with the same brush, adds black to darken a colour (anyone who did Art in school should know you add a colour's opposite) and most bizarrely of all, despite this apparently being her own original colour, she
doesn't know the formula.
Instead she guesses, approximating bits of blue and black wholesale mica until she gets something that looks roughly like her finished product.
No manufacturer could create permanent products this way, you'd have massive variations in shade mixing without a formula, weights or measures, not to mention the unsanitary conditions. And to top it off, she then claims she sends off the small samples to a lab to have professionals mix bits of mica together based on the small plastic bag because she still hasn't written it down, or measured anything.
Hey look at that, ratings and comments are disabled.


ETA:

I wondered for a while why she picked Twilight to "make" here, considering it isn't bright at all, and then I took another look at the video title and its search tags. I bet it's so people who search for Twilight (the film/book) on Youtube, or "Making of" Twilight will find it. Smart.

Her video looks an awful lot like TKB Trading's video on how to mix their mica, doesn't it? Except they wear gloves and a mask.
In contrast to this, mineral make-up company
Aromaleigh
made their own video showing how they make an eyeshadow. It's a wee bit more complicated when a professional does it.
Wow, she cleaned

things!

Watch for the reference to Lime Crime's video around 04:10.
h8terz
On 4th November, Doe released this video of her calling us all big fat liars and giant meaniebeasts for picking on her and being awful, terrible bullies, spreading lies about her and generally damaging her state of sparkly happy magical gleefulness, rolling in
piles of cash
magical fairy dust.
Ratings and comments disabled again? Mystery.
Not long after her why-is-everyone-picking-on-me sob story (and mild blinkathon, I think she had something in her...
both
eyes, or perhaps is just trying to make them water), poor, tortured Doe further displayed how she's an uhm, totally defenceless victim, by attacking a blogger for her review of
Lime Crime's Lipsticks
.
The original review (
which you can read here)
, wasn't particularly positive, but it was pretty unbiased and very well researched. Not long after posting it, on the 17th November, Lime Crime sent the blogger an e-mail threatening her with legal action if she didn't remove any and every post she'd ever written which referenced Lime Crime, including the unbiased reviews, and post a public apology. They didn't just threaten to have the content removed,
they threatened to sue her personally
, for posting her opinion that the lipsticks weren't so great.
I've seen the e-mail she was sent, and it was the nastiest legal threat letter I've seen, with added condescension thrown in. I'm not posting the entire thing with respect for the blogger's privacy, but will post a snippet, and mention that at one point the e-mail says "We expected greater restraint on your part." Which is bizarre to me, since it seems to suggest that they know her personally (which they don't), or that she's the next door neighbour's disobedient child (which she isn't). Doesn't seem like a fitting way for a company/lawyer/unicorn to address a full-grown woman.
Their demand seemed pretty simple:
We expect that you immediately remove all posts pertaining to our company, its principals, and our products and issue a public retraction and apology on the [Blog Title] blog. Failure to comply by November 18th will result in the most strenuous legal action allowable under California law. Continued defamatory conduct will expose you to further, deeper legal liability.
Guide yourself accordingly.
Lime Crime
Not an ounce of sparkly, shimmery, happy Unicorn Queen there, eh? What happened to you don't get anywhere by being mean, Doe?
The blogger complied, removing all posts referencing Lime Crime from her blog, and posting an apology which was surprisingly warm, sincere and heartfelt. She even added that she was sincerely sorry if Doe had been personally offended by anything she'd written, which was never her intent. You'd think they'd be happy with that, right?
Wrong.
In response to her immediate compliance with their demand, they sent her another e-mail. Apparently, the first apology wasn't good enough, so they wanted to dictate one to her, and demanded she post it verbatim - even though it makes her claim an alias which isn't hers. "Jessica L" is actually her cousin.
We appreciate your compliance in removing your defamatory posts. However, we consider re-posting a heavily edited version of our email with a cheeky "retraction" a bad-faith effort.

Please post the below retraction and apology verbatim, or we will be forced to proceed with litigation

:

On several occasions, under the names of [removed at blogger's request], and "Jessica L." I published untrue articles and comments on various websites about Lime Crime Makeup, its proprietor, Doe Deere, and the company's products. This includes my article "Lime Crime - A History".

I hereby unreservedly withdraw the defamatory statements made by me and apologize publicly to Lime Crime. I also wish to express my regrets that these defamatory statements were ever published and admit that there was no ground for these defamatory statements.
Yeah, you didn't miss that. "
Please post the below retraction and apology verbatim, or we will be forced to proceed with litigation."
She was given a false statement to post, and threatened with legal action if she didn't. In other words, lie, or we'll sue you. (The bold was mine, by the way, in both instances.)
She deleted the old apology and replaced it with their scripted one, and I don't blame her in the slightest. Complying with such a ridiculous,
completely anti-sparkly
demand shows the company's attitude far better than any lipstick review could. The lipstick review which I linked above was re-posted by one of the blogger's readers, so that it could still be accessed.
Look! Over there, a Ferrari!
Lime Crime has taken a number of turns since the controversy first came to light. Since typing "Lime Crime" into google now brings up this cheerful result:
Lime Crime's fans ("Futurettes" - you actually have to
apply
to be one) have been re-assembled into a 'street team' and encouraged to spread the word without search engines, by handing out promotional material to people in the real world. Outside of trying to silence the odd blogger, they've also been known to
have comments deleted on third-party websites
(or try unsuccessfully, as in
this case
- read the Editor's note) as well as their own, and only allow positive reviews on their products on the shop page (it used to be only 5 or 4 stars, but predominantly-positive 3 stars are sneaking in, now). They also run an
affiliates program
, meaning that bloggers who refer customers to Lime Crime will earn commission if they buy. Now there's incentive for good, honest reviews. (If you want to actually find some honest ones, I'd suggest you look over
here
.)
When I blogged about this originally, it was just any ordinary review. I bought into a brand, believed what they told me, bought the product and discovered the reality to be something else and the brand to be less than stellar. A lot of people have asked why I don't
bitch about companies like MAC
, or why single out Lime Crime.
Truth is, they were just the repackagers I bought from first. It could've just as easily been any other repackager, and there are plenty more reviews coming of companies whom I also suspect of simply repackaging their products. That said, I know a lot of people take issue with everything the company has done since the controversy, and the spectacularly shit way it's been handled.
All of this just about brings you up to date. I wanted to write a summation, a story-so-far for newcomers to understand the huge snarly ball of drama that surrounds Lime Crime. I also wanted to keep it separate from my up-coming Lime Crime lipstick review (mini one
here
!), to try and be as impartial in that aspect as I can be, but not deny you all a good ol' fashioned rant.